For a Night, Week or Lifetime.
The Grand Colorado brings you closer to life's best moments. Because when it comes to coveted mountain addresses, the base of Peak 8 in Breckenridge rivals them all.
Once you check in, you never need to leave. You have easy, convenient access to everything you need—the lobby, residences, restaurants, pools, hot tubs and heated underground parking. Walk straight out to the heated slopeside plaza and hop onto the Colorado and Rocky Mountain chairlifts.
If you are looking for luxurious accommodations in Breckenridge with the convenience of ski-in/ski-out access, look no further than the Grand Colorado on Peak 8.
The Best Aquatics in Breckenridge.
FOR YOUR SAFETY, Indoor Pool and hot tub use is by reservations only. Go here for more information.
Spring Aquatic Closures
Building 1 Kids Pool – April 21-22
Building 1 Indoor/Outdoor Pool – 8 p.m. April 26-30
Building 3 Kids Pool – May 4-5
Building 3 Indoor/Outdoor Pool – 8 p.m. on May 10-14
Grotto – May 19-20
The Grand Colorado on Peak 8 offers two luxurious aquatics areas, featuring indoor/outdoor pools and multiple hot tubs, children's pools with play features, and a water slide, all with unparalleled views of Peak 8.
Indoor Aquatics
Pool towels are provided in each residence at the Grand Colorado as well as in the aquatic areas.
Outdoor Aquatics
The outdoor pools and hot tubs are perfectly situated so that you can relax while taking in the breathtaking views. In addition to the pools and hot tubs, the resort offers conveniently located BBQ grills in the outdoor aquatics area for owners and guests to enjoy. Please note that children under the age of 12 years old must be accompanied by an adult when using the pools and hot tubs.
Hours: 9 a.m. to 10 p.m. daily
Where Relaxation is Limitless…
An escape within your escape. Infinity Spa and the adult-only grotto are sanctuaries within the Grand Colorado. Indulge in an 80-minute massage. Treat yourself to a manicure/pedicure. Let tension melt away in the grotto's hot tub, cold plunge pool and steam room. Listen as the cascading waterfall lulls you into a state of zen.
Infinity's natural skin and body care products are results-oriented and blessed by mother nature herself. Begin your journey by enjoying our calming oasis in the Relaxation Room. Then, indulge in one of Infinity's signature treatments followed by a soak in our restorative grotto.
If you have any questions, please call 970-547-8795 or email us at InfinitySpa@BreckGV.com
Join Us for a Drink at The Lobby Bar.
The views are spectacular, the service is first-class, and the cocktails are delightful. Raise your glass and take in the unrivaled views from the finest ski lodge in Colorado, located in the heart of The Grand Lobby.
Along with beer, wine, and divine cocktails, The Lobby Bar also offers fun activities such as beer tasting and Family Trivia Night. Visit the Activities Desk for more information.
Hours: 4 p.m. to 10 p.m. daily
Ullr Café proudly serves sustainably sourced Colorado roasted Vail Mountain Coffee. Choose from various roasts and specialty drinks—Americanos, cappuccinos, lattes, white mochas, chai teas and more. Be sure to try the Ullr Blend, crafted by the award-winning Vail Mountain Coffee Roasters just for Ullr Café.
From first chair to après-ski, our friendly slopeside coffeehouse and pub is your grab-and-ski stop for croissants, bagels, muffins, scones, cookies and breakfast burritos. Or, grab an energy bar before jumping back on the hill or out on the ice rink.
Enjoy a classic cocktail menu with mimosas, margaritas, Moscow mules and our soon-to-be-famous fully loaded bloody Mary (complete with olives, pepperoncini, pickle, lime, cheese cube, bacon and even a famous "Daylight Donut" sausage roll – all skewered and served with a souvenir mug!) Our "self-pour" beer wall offers featured Colorado brews and a variety of wines. Try each one — ounce by ounce!
Hours: 7 a.m. to 5 p.m. daily
Phone: 970-547-3643
Menu: Click here
Robbie's will close on June 7 and re-open on June 11 for lunch.
Robbie's Tavern at the Bergenhof features breakfast (seasonal), lunch and dinner, offering upscale comfort food, unique twists on favorite pub items, a curated craft beer collection, signature cocktails, wine and après-ski specials. Long time local and chef "Cip" serves what many believe is the best cheesesteak outside of Philly! Appetizers such as pretzel knots and chicken drummies are crowd pleasers. Enjoy looking out the expansive windows at the slopes or head out to the deck – complete with "fire table" seating that creates an atmosphere like none other.
Hours: 11 a.m. to 9 p.m. daily
Phone: 970-547-8785
Menu: Click here
The perfect spot to settle in and share a welcome beverage. The new and exclusive rooftop patio, Elev8 Lounge, unveils outdoor grills, a full bar and spectacular views of the ski resort, Baldy Mountain and the Continental Divide. This space has the urban feel of a super private club with a view corridor like no other.
Hours: 12 p.m. to 6 p.m. daily with limited indoor and outdoor seating.
Five Private Movie Theaters.
The Grand Colorado on Peak 8 features four private movie theaters in the Family Fun Center, located next to the Front Desk in Building 1. A fifth additional private movie theater is located in Building 3. Each movie theater is equipped with state-of-the-art video technology and is operated by using a touch screen pad to select a movie or watch DirecTV. Over 150 movies are available for your enjoyment. Select from a combination of action, thriller, comedy, children's and classic themes.
Theaters 1 and 2 offer six luxurious recliners with two large bean bags, while Theaters 3 and 4 offer nine recliners and two large bean bags.
Theater 5 offers seating for up to 15 guests on comfortable, upscale recliners.
Movie theater reservations can be made in advance by calling the Front Desk or Concierge (owners only). Non-owners may make a reservation upon arrival at the resort.
Grand Colorado on Peak 8 Ice Rink
Located steps from the famous slopes of Peak 8, the outdoor public ice skating rink brings family-friendly fun to the young and young at heart.
Take in magnificent countywide mountain vistas and warm up between laps by the fire with hot drinks and refreshments from Ullr Café just steps away from the rink. Skates and helmets are available for rent at the walk-up window or inside the resort. When the snow melts, the ice rink is turned into a summertime sport court.
Pricing:
One-hour skate limit per admission. Includes skate rental.
Adults (13 and up) $12 for 1 hour
Child (12 and under) $10 for 1 hour
Admission with own skates $8 for 1 hour
Hours: 4 p.m. – 9 p.m. daily.
Ice Rink will be closing April 4.
Ship Skis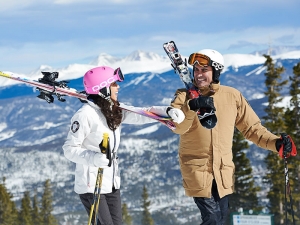 Avoid the hassles and headaches of dealing with the airlines and simplify the way you travel on your next ski trip to Breckenridge! With Ship Skis, you can travel hassle-free by arranging door-to-door transportation of your ski gear and luggage from anywhere in the world in just minutes.


Skier Services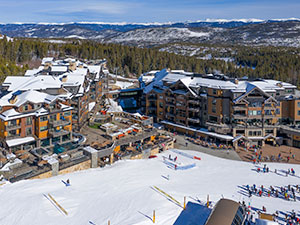 In addition to Ullr Café and the ice skating rink, the final building of the Grand Colorado on Peak 8 also features a 22,000-square-foot base facility with a variety of skier services including ski and snowboard school, childcare, retail, gear rentals and ticket windows into a single, easy-to-navigate space.
Grilling Area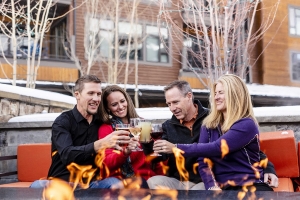 We are all about the outdoors, so we made sure to create spaces for you to experience that. Placed throughout our beautiful property, enjoy spacious outdoor seating, multiple grilling areas, all with spectacular views. Even an outdoor fire pit to gather around to share your grand memories.
Peak Eight Market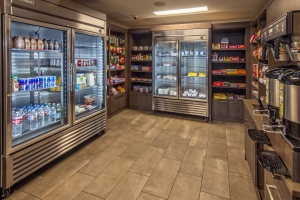 The Peak Eight Market is your one-stop shop for all your vacation needs. Located adjacent to the Front Desk in The Grand Lobby where our team will be able to help you 24 hours a day.
Gr8 Escape Room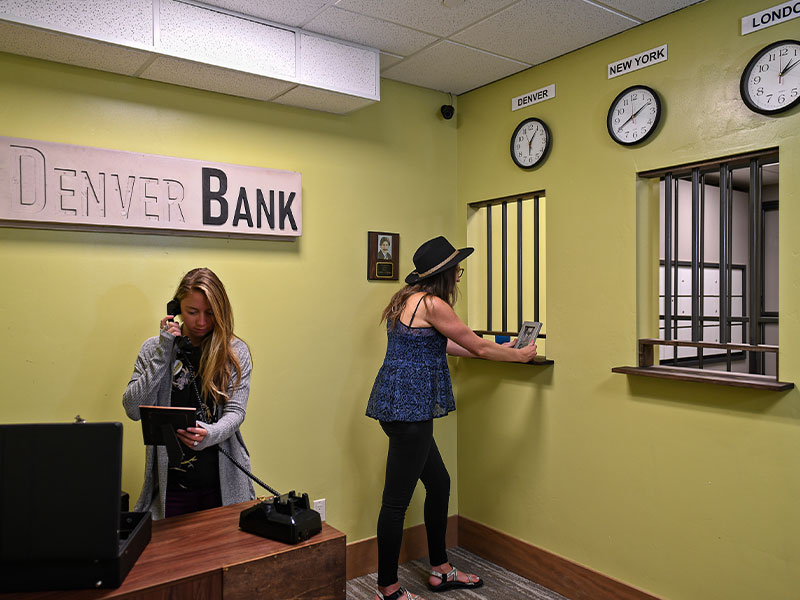 The Grand Colorado on Peak 8 features its very own gold-mine-themed Escape Room!
You are a group of private investigators hired by Mark Fiester, a local pastor who has made it his life mission to track down Tom's Baby, the largest chunk of gold ever discovered in Colorado. After countless days of following leads, your intel has led you to a bank in Denver. Luckily for you, money talks and a bribable custodian has agreed to let you search the bank before it opens. This is going to be your only shot to find out if Tom's Baby is actually here, so you're going to have to get creative if you want to gain access beyond the lobby. And, be quick! The manager arrives to open the bank in an hour!
Pricing:
$30 for owners
$35 non-owners
Early bird special: $20 per person for the 9 a.m. room
Hours:
Monday – Thursday: 9 a.m., 11 a.m., 1 p.m., 3 p.m. and 5 p.m.
Friday – Sunday: 9 a.m., 11 a.m., 1 p.m., 3 p.m., 5 p.m. and 7 p.m.
Contact the Activities desk to book your gold-mine mystery
Shuttle Service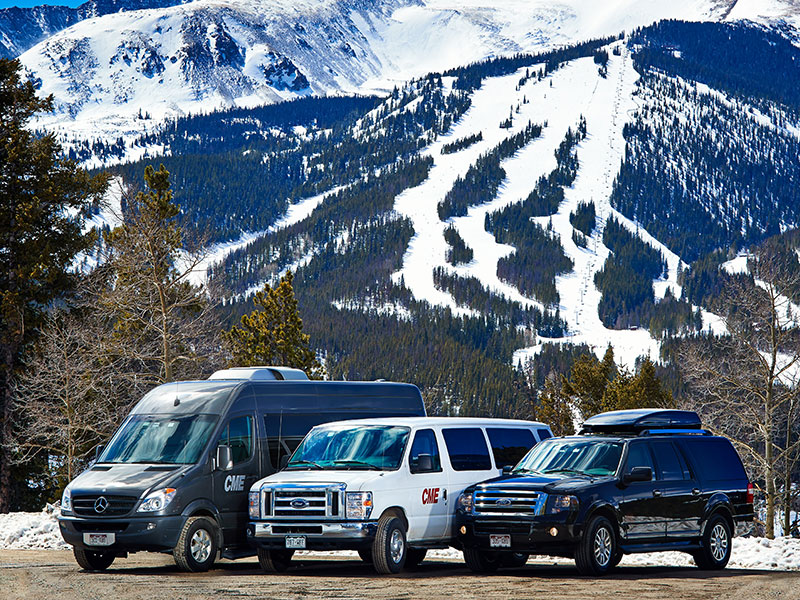 Once here, we know it's tough to leave. However, if you do want to go to town, leave the driving to us! One of the best and most convenient services at the Grand Colorado on Peak 8 is the free in-town shuttle service. The Grand Colorado is also steps from the BreckConnect Gondola, which offers free, fast service right into the heart of Breckenridge (during seasonal operating hours).
The shuttle service will take you to downtown Breckenridge and pick you back up when you're ready to return to your mountain home. Shuttles typically run all day – check with the Concierge for exact hours.
Fitness Center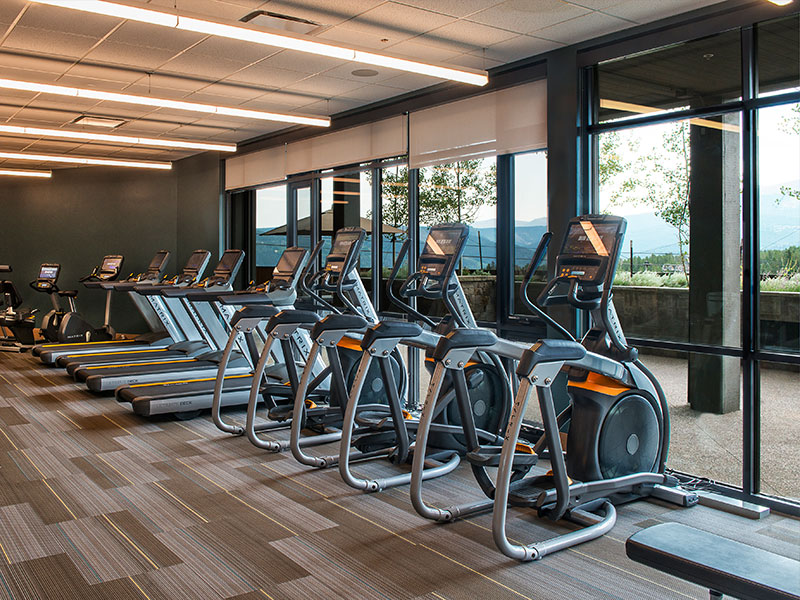 The cardio and weight-centric fitness center at the Grand Colorado has unparalleled views for the health-conscious to enjoy during their workout. All weight training equipment is from Technogym, known for building commercial-grade apparatus often used in Olympic training facilities. There is also an area for stretching and yoga.
There are individual televisions and iPod docking stations built into each piece of cardio equipment. The Kinesis cable crossover machines by Technogym are being touted as the "next step" in this type of exercise equipment.
Hours: 5 a.m. to 11 p.m daily
Business Center & Library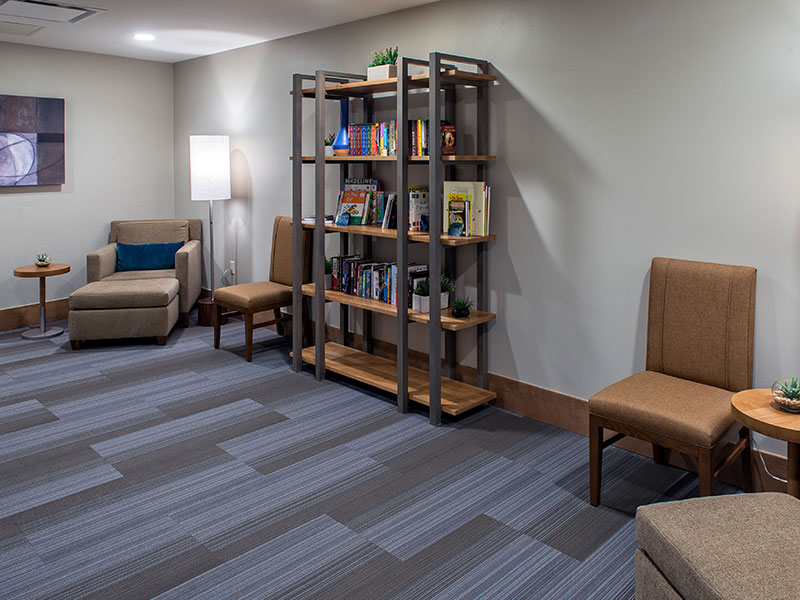 The Grand Colorado on Peak 8 is pleased to offer a courtesy business center, equipped with two computers for both owners and guests to use. An adjacent quiet and cozy seating area creates the perfect space to relax and enjoy a good book.
Boardroom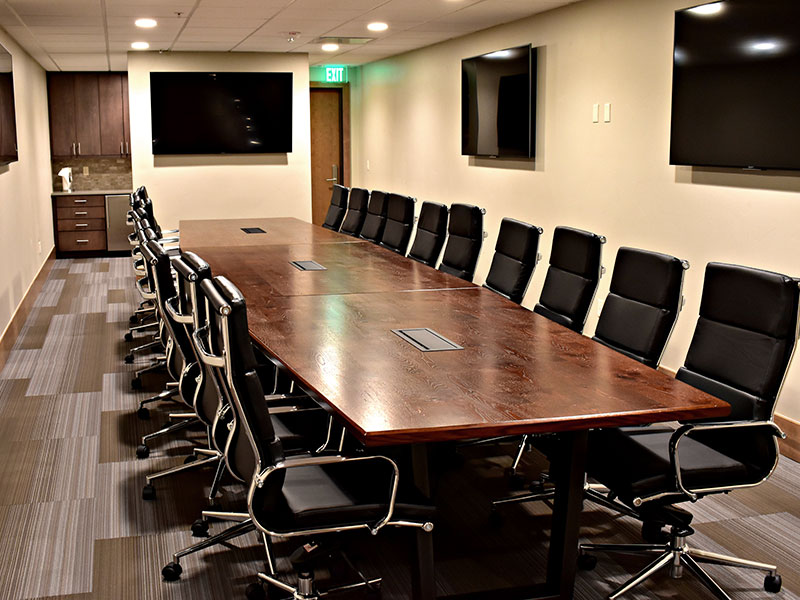 The Boardroom can be found adjacent to the Front Desk in the Grand Lobby. Owners and guests may reserve the boardroom in advance for a maximum of two hours at a time. Perfect for business meetings and private enough for those working remotely while staying at the Grand Colorado, the Boardroom is equipped with 5 LCD flatscreen TVs and easy access to hook up your laptop to display group presentations on-screen. There is also a small kitchenette in the back of the Boardroom with a sink and plenty of counter space to store snacks and beverages.
Family Fun Center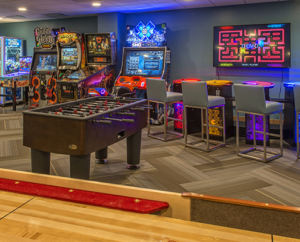 The Family Fun Center offers exciting games such as Guitar Hero, Pac Man, Fooseball, SnoCross, Shuffleboard and more!
Five private movie theaters are available by reservation for owners and guests. Each theater is equipped with state-of-the-art video technology and is operated by using a touch screen pad to select a movie or to watch DirecTV.
Hours: 9 a.m. to 10 p.m. daily
OUR FAMILY COMMITMENT: ALWAYS GRAND VACATIONS!