Ullr Breck
Norse God of Snow
Installation by Andy Scott
Video shot by Mike Murphy of Postcorp.tv
To meet the artist or for more information about the sculpture, please contact Juli Rathke at juli@breckgv.com.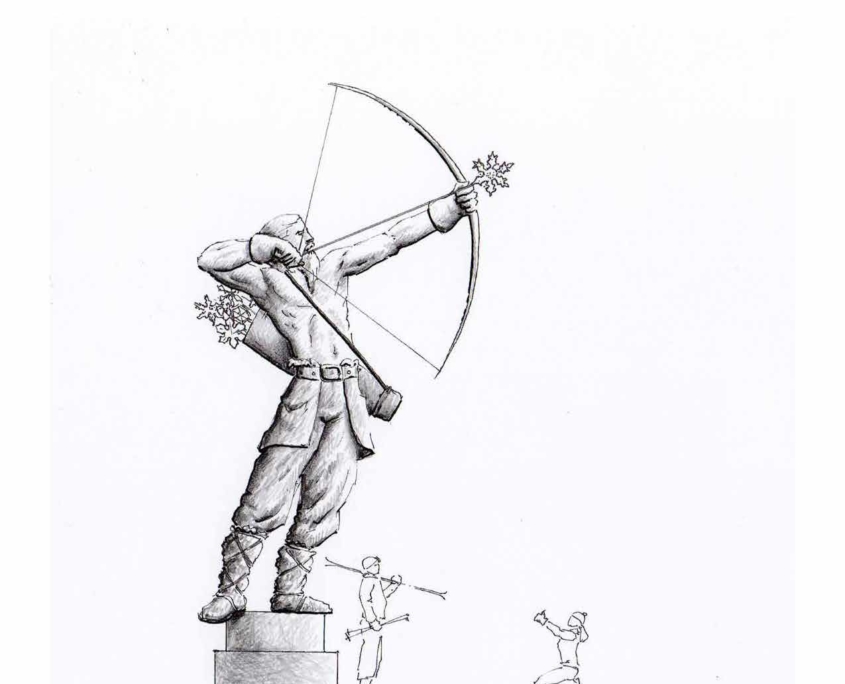 Original conceptual drawing by Andy Scott
---
The Ullr Project:
In the fall of 2018, CEO and Co-Owner of Breckenridge Grand Vacations, Mike Dudick and his wife Anna Dudick with the help of Breck Create's Arts Council cast an international call for sculptors who wanted to tackle the personification of Breckenridge's Ullr character whose location would complete the base of the Peak 8 ski area in the plaza where the Grand Colorado on Peak 8 now sits. With over 174 submissions, three finalists were selected and invited out to participate in the Ullr Fest celebration Breckenridge has become known for. Locals know and it is widely believed that honoring Ullr, the Norse God of Snow, and paying homage to him may, can and will bring about blessings of snow upon our ski town. See for yourself!
ULLR Fest History:
Legend has it that Ullr, the Norwegian snow god was so well skilled in the use of the bow and could go so fast on his skis that in these arts no one could best him. Each winter he covered the earth with snow to protect it from harm. It has been said that Ullr enjoyed the cold weather and loved traveling throughout the land, gliding along on his great skis, for pleasure and hunting.
It is also said that Ullr was such a great skier, he would streak across the sky leaving the brilliant stars as his trails (they obviously had some fine powder days). Though very skilled, Ullr guarded his knowledge closely and refused to show the other gods how to ski. Luckily for us, he let the secret out of the bag, and we will all be soon celebrating his glory. Next time you are trying to bash through some wind crust or plunge head first into fresh waist-deep powder, be sure to invoke his name and remember – ULLR RULES!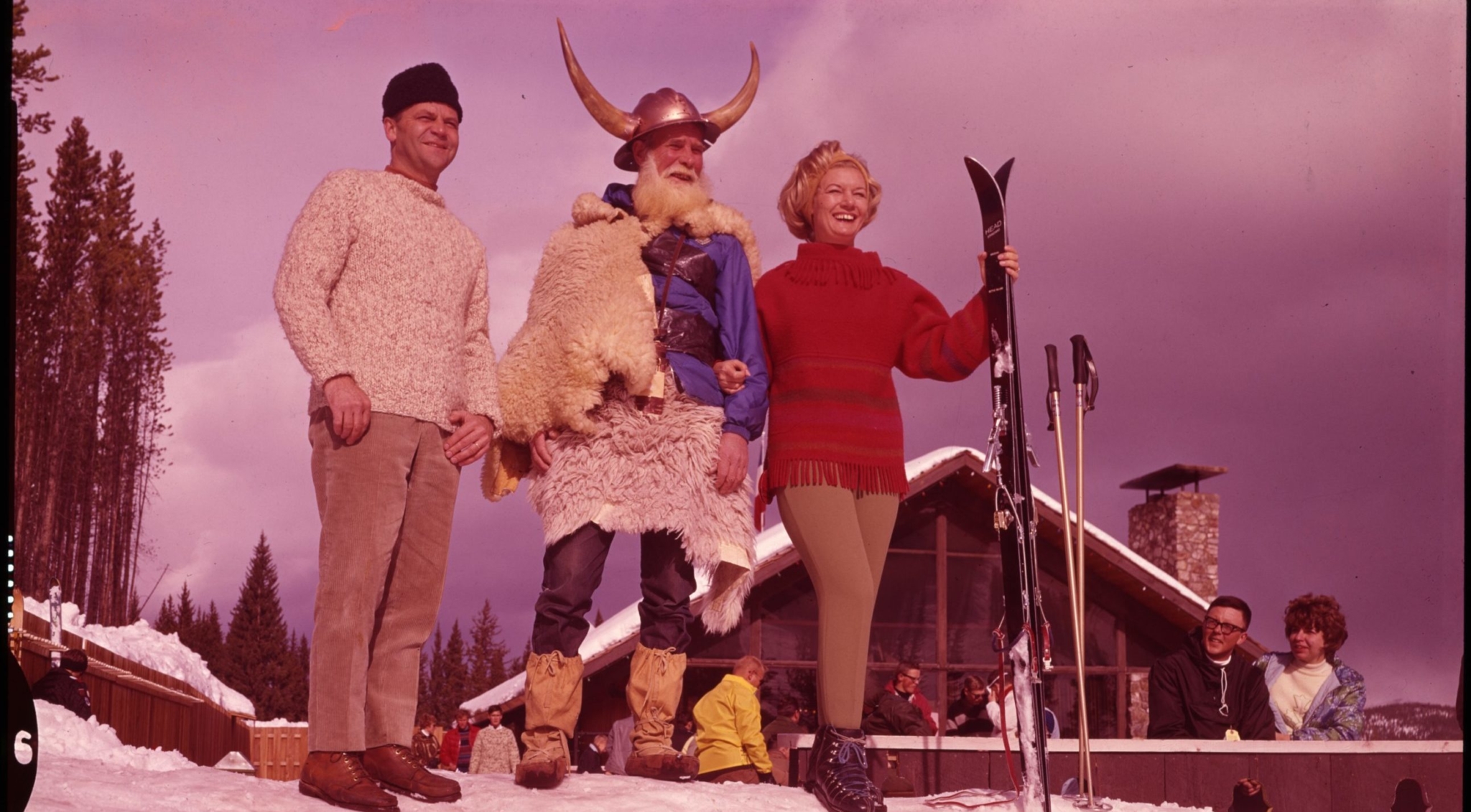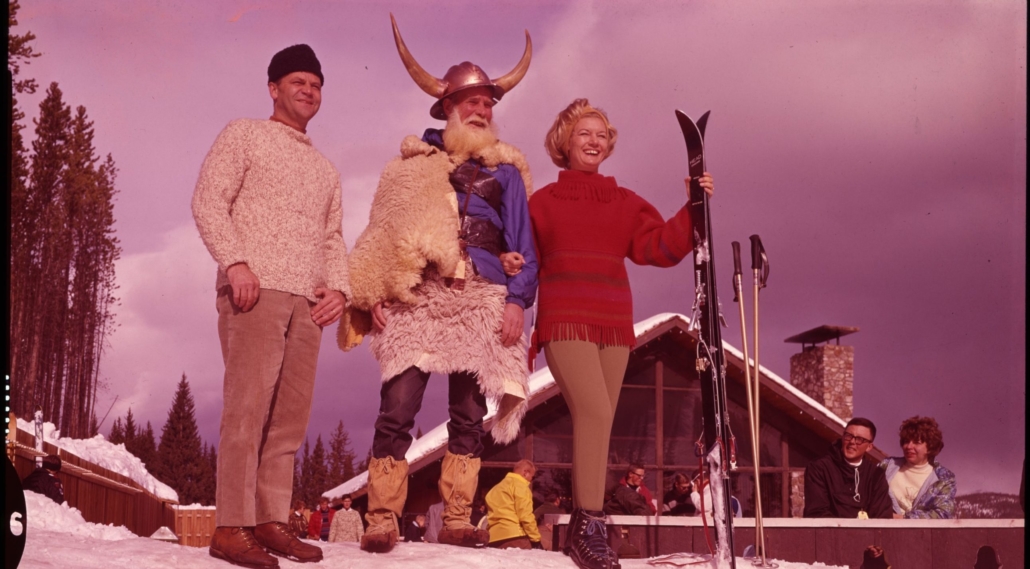 Ullr Finds A Home in Breckenridge
Shortly after Breckenridge Ski Resort was founded, local legends, Sigurd Rockne and Trygve Berge, created the first Ullr Dag festival. The festival came about because the majority of the ski school instructors were Norwegian and had a long tradition of celebrating Ullr, the Norwegian god of snow. The festival included a ski parade, competitions and aerial tricks demonstrated by ski school instructors. There were two booths, one at each end of Main Street, which cars had to stop and could buy Ullr Coins which gave them discounts in certain shops in town. The first crowned King and Queen for Ullr was Governor John Love and his wife Ann Love. To kick the parade off, there were four jets that flew 500 feet above Main Street. After the parade, there was a bonfire. Ullr fit right in and took to the mountains. And every year, Ullr blesses Breckenridge with some of the finest snow in the world.
To repay Ullr for his gift of snow, we here in Breckenridge continue to hold a festival to honor the god of winter. We now call this little celebration Ullr Fest. Over the year, many traditions were formed such as the Ullr Ball, the Ullr Bonfire, the Ullr Parade, Snow Sculpting, Ullr King and Queen, the Ullympics and the Ullr Dating Game. Some traditions have stayed, such as snow sculpting, which has become its own event called the International Snow Sculpture Championships. Other traditions have gone by the wayside.
---
About the Artist:

Andy Scott B.A. (Hons), Dip PG
D.Sc(hc), D.Litt (hc), Dr. (hc, Edin)
MRBS, FRIAS, FSSAA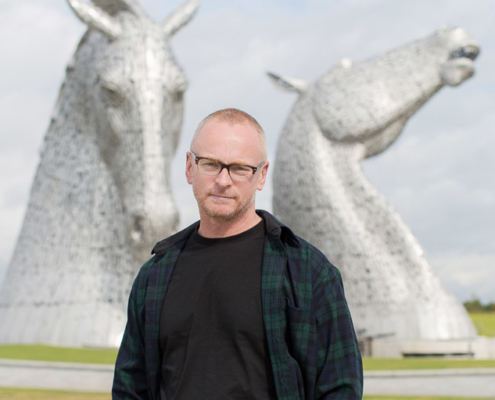 Mike and Anna met with each of the three finalists and selected world-renown artist and sculptor, Andy Scott. Andy's most famous sculpture to date are the Kelpies in Scotland which sit over 100 feet tall.
Sculptor Andy Scott is a graduate of Glasgow School of Art and works internationally from his studio workshop in Philadelphia, PA, USA. He creates prominent public artworks for private, corporate and civic clients, and his prodigious output now numbers in excess of eighty projects internationally.
He works in steel and bronze, combining figurative and equine themes with contemporary techniques to create stunning landmark artworks.
His most prominent project to date is The Kelpies, a pair of 30 metre/100ft high, 300-ton horseheads, sited in Falkirk, Scotland, UK. The Kelpies sculptures are now the best-known public artworks in Scotland, with millions of visitors since their inauguration.
Andy has been awarded four Honorary Doctorates from UK Universities for his artworks in the public realm. Among many other accolades, his Kelpies won the UK National Structural Steel Award, a Saltire Award for Civil Engineering and were named Landmark of the Year by the BBC. In recognition of his sculpture works, Andy was made an Honorary Fellow of the Royal Incorporation of Architects in Scotland, an Honorary Fellow of the Scottish Society of Architect Artists, an honorary member of the Ancient Guild of Hammermen and a Freeman of the City of Glasgow.
Recent and current projects include works in Edinburgh, Mexico, London, Aberdeen, Netherlands, California, New York and Philadelphia.
Visit: www.andyscottsculptor.com
---
The Dudick family commissioned "Tom's Baby" another historical sculpture that depicts the true essence of the mining days that Breckenridge once was. This sculpture sits in one of
Breckenridge's town parks on the north side of Main Street where you rub the golden nugget for good luck.