What it's Like to Stay at the Grand Colorado on Peak 8
Resort life is the best life. There's a magical, comforting and exhilarating feeling that comes with staying at the Grand Colorado on Peak 8. Rising with the sun and stepping out onto a balcony overlooking the epicenter of the Epic Discovery Adventure Park sets up everyday to be a good day. Enjoying cold drinks with a post card view in the background is a moment you will never forget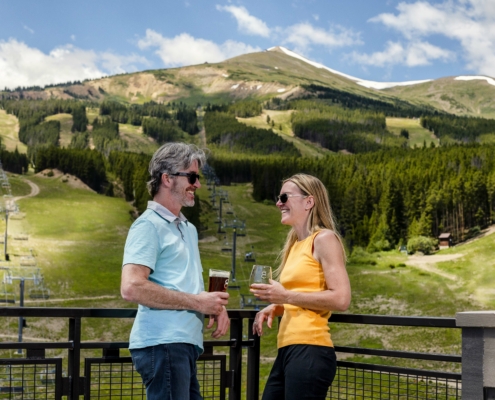 Taking in this view from a master bedroom balcony recently at the Grand Colorado on Peak 8, I felt that ultimate summer bliss being steps away from the mountain. Friends and family had met around the spacious, modern suite's dining room table the previous night for a birthday celebration feast complete with wine, cake, ice cream and games. Morning rolled into pancakes, sausage and eggs at countertop barstools, prepped in a fully stocked kitchen among stainless steel appliances, recycling and composting options and plenty of ready-to-brew Vail Mountain Coffee & Tea.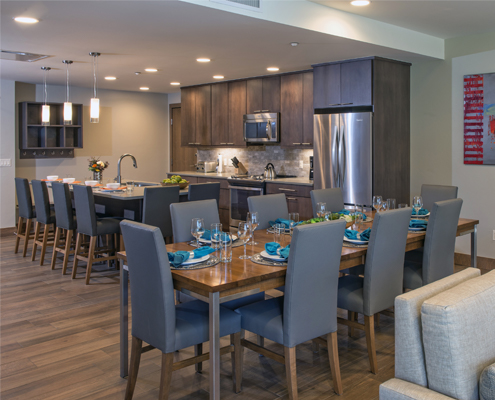 Thoughtful perks and at-home amenities elevated our stay to first-class status. Our little guy's clothes are dirty from playing at the Epic Discovery Adventure Park can easily get tossed in the in-suite washer and dryer while he douses his pancakes in syrup, gearing up for another awesome day at the Adventure Park. With drop-off right downstairs, we seamlessly high-fived him goodbye, grabbed our gear from the onsite complimentary bike locker and took a few easy steps to the near-by mountain bike trials.
Returning to our room to change and head to the spa, we make a stop by Robbie's Tavern for some appetizers and the mountainside bistro's famous spicy Bloody Marys. We then slip into the 21-and-over grotto—the grown-up favorite instantly calms with dim lighting, soothing music, lounge chairs and those incredibly refreshing eucalyptus iced face towels. Dips between the cool pool, jetted hot tub and rejuvenating steam room were excellent precursors to a healing massage and luxurious pedicure at the Infinity Spa.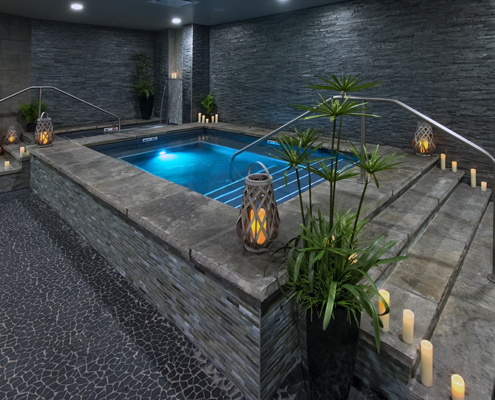 The hardest decision we made all day was whether to sign up for the evening craft beer tasting at the sleek Lobby Bar or to pop outside to the open-air patio to play life-sized chess and Connect Four next to the grilling area and fire pits. We opted for family time in the game room playing PacMan and Fooseball. Post-dinner nightcaps came in the form of pool time at the aquatics center. Watching the stars from a steamy hot tub and looking out at the dark silhouetted peaks we had mountain biked that day was the icing on our fit-for-royalty resort day.