Best Boozy Drinks to Make This Spring: Best of Breck Team Edition
It's the perfect time of year to slow down, cool down, and get outside however you want! The Best of Breckenridge team does NOT mess around when it comes to making tasty drinks to look forward to after a long day on the mountain. So, we did our research in the office and asked everyone to share their favorite. Here's what we found… the office really knows how to cool down on the weekends!
Taylor: Watermelon Moscow Mule
Ingredients: seedless watermelon chunks, citrus vodka, limes, ginger beer, fresh mint, ice cubes
Directions:

Place chunks of watermelon (~2/3 cup) into a blender and puree until smooth.
Strain watermelon and throw away the pulp.
Pour ¼ cup of watermelon juice over ice with 1-2 shots of citrus vodka and lime juice and shake.
Pour over a copper mug and top with ginger beer and garnish with a watermelon chunk and mint.
Enjoy!
Nikki: Strawberry Basil Margarita
Ingredients: whole strawberries, fresh basil, Lime Topo Chico (or any seltzer), silver tequila, limes, ice
Directions:

Throw some ice in a cup and squeeze one whole lime onto the ice.
In a bowl, muddle (with a fancy muddler, or just use a spoon/rounded edge) strawberries and basil leaves until it becomes semi-liquid-y and pour onto the ice.
1-2 ounces of silver tequila (or just measure with your heart).
Fill the rest of the cup with seltzer.
Cut up a slice of lime and garnish on top.
Stir & enjoy!
Sarah Jo: Aperol Spritz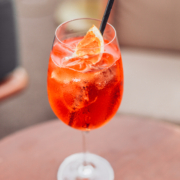 Ingredients: Aperol, dry Prosecco, club soda, orange slice, ice
Directions:

Add ice to wine glass until it is nearly full.
Pour Aperol to about 1/3 of the glass full.
Pour in equal part Prosecco.
Top off the drink with club soda and an orange slice & enjoy!
Tianna: Bellini
Ingredients: 4 medium ripe peaches, 1 bottle of chilled Prosecco
Directions:

Peach puree: peel your peaches, slice them in half and remove the pits. Place peaches into a blender and puree until completely smooth. Refrigerate for at least 30 mins.
When you're ready to serve, pour 2 ounces of chilled puree into a champagne flute and pour chilled Prosecco.
Stir gently and enjoy!
Sandra: Brazilian Lemonade
Ingredients: 4 juicy limes (washed), water, sugar, sweetened condensed milk, ice
Directions:

Wash limes thoroughly and slice off the ends of each lime and cut them into 1/8ths
In a blender, combine 3 cups of water, half a cup of sugar and half of the limes. Pulse in the blender and then strain into a pitcher. Repeat once more with the leftover limes.
Stir 6 tablespoons of sweetened condensed milk into the pitcher of limeade and serve with lots of ice.
Garnish with lime and enjoy!
Laurel: Palisade Peach Sangria
Ingredients: Ripe Palisade peaches (local town in CO that grows the BEST peaches), raspberries, fresh mint, peach schnapps, seltzer, sauvignon blanc wine
Directions:

Peel 4 palisade peaches, cut in half, remove pits and toss into a pitcher.
Wash and put 3 small containers of raspberries into the pitcher.
Place 20-30 mint leaves into the pitcher.
Fill the pitcher 2/3 of the way with ice.
Add 1 cup of peach schnapps and 3 cups of Sauvignon Blanc wine.
Fill the rest of the way with seltzer.
Stir & enjoy in a wine glass!
Nicole: John Daly Drink
Ingredients: lemonade, iced tea, vodka, lemons, ice
Directions:

Over ice, pour 1-2 shots of vodka & squeeze half a lemon.
Mix equal parts lemonade and iced tea and pour over ice.
Shake or stir all together.
Pour into your favorite cup and garnish with a slice of lemon & enjoy. 
Tony: Corona & Lime (simple, yet so delightful)
Ingredients: one lime wedge, one chilled bottle of Corona
Directions:

Chill a glass-bottled Corona.
Insert lime wedge into beer and enjoy. 
Brittany: Classic Moscow Mule
Ingredients: lime, ginger beer, vodka, ice
Directions:

Fill a copper mug with ice and squeeze half a lime on top of the ice.
Pour 1-2 ounces of vodka into the mug.
Fill the rest of the way up with ginger beer.
Garnish with a lime wedge & enjoy!
Hannah: Fresh Mojito
Ingredients: fresh mint leaves, limes, sugar, white rum, club soda, ice
Directions:

Muddle 10 mint leaves and 1 lime wedge in a sturdy glass.
Add two more lime wedges and 2 tablespoons of sugar and muddle again.
Fill the glass with ice.
Pour 1-2 ounces of rum and fill the rest of the glass with club soda.
Stir, add a lime wedge and mint leaf to garnish & enjoy!
Ginny: Classic Gin & Tonic
Ingredients: gin, tonic (recommend Q Light Tonic), lime, sprig of rosemary or juniper berry, grapefruit slice, ice
Directions:

Fill glass with ice and squeeze ½ a lime over ice.
Pour 1-2 ounces of gin over ice.
Fill rest of way with tonic.
Garnish with a sprig of rosemary or juniper berry, add in a thin-cut grapefruit slice & enjoy!